Republic, Lost v2
The Corruption of Equality and the Steps to End It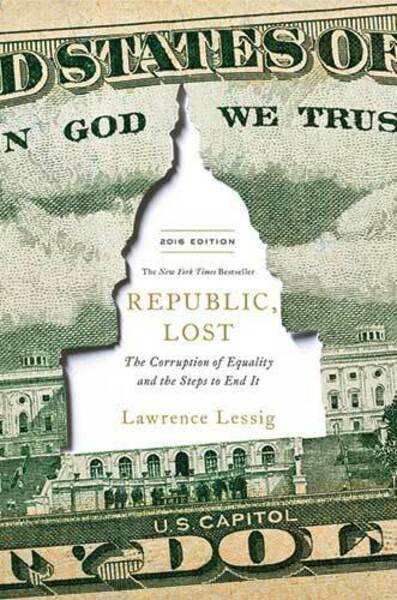 About the book
In this entirely new edition—revised and expanded in time for the 2016 election—Harvard Law professor Lawrence Lessig exposes the most vexing problem in American democracy and offers a new plan to save our lost republic.
In an era when special interests funnel huge amounts of money into our government—driven by shifts in campaign-finance rules and brought to new levels by the Supreme Court in Citizens United v. Federal Election Commission—trust in our government has reached an all-time low. More than ever before, Americans believe that money buys results in politics, and that business interests wield control over our government.
Lawrence Lessig takes a clear-eyed look at what this crisis is—a crisis of equality—and how we arrived at it—how fundamentally good people, with good intentions, have allowed our democracy to be co-opted by outside interests, and deny citizens the basic equality of a representative democracy. Using examples that resonate as powerfully on the Right as on the Left, Lessig seeks out the root cause of our situation. He plumbs the issues of campaign financing and corporate lobbying, revealing the Tweedism—an endemic corruption of citizen equality—that has taken hold of our system.
From there, Lessig presents ideas for how this republic lost can be regained, ultimately calling for widespread mobilization and a new Constitutional Convention, presenting achievable solutions for regaining control of our corrupted—but redeemable—representational system. He also explores the idea of Referendum Politicians, as a more immediate way to force change into the system. In this way, Lessig plots a roadmap for returning our republic to its intended greatness, by giving citizens what they were originally meant to have—a Congress "dependent on the people alone," where by "the People," was meant "not the rich more than the poor.
While America may be divided, Lessig vividly champions the idea that we can succeed if we accept that corruption is our common enemy and that we must find a way to fight against it. In this brand new edition of REPUBLIC, LOST, he not only makes this need palpable and clear—he gives us the practical and intellectual tools to do something about it.
Table of Contents
Contents
Preface
Introduction
PART I: The Flaw

1. Tweedism
2. Corrupt Because Unequal
3. Consequences: Vetocracy
4. The Fix

Vouchers
Matching Funds
Would More Funders Make the Problems Worse?
But What Would All This Cost?
What These Changes Would Do for "Lobbying"

5. Distractions
6. What about "Free Speech"?

PART II: Deeper

7. Why So Damn Much Money

Demand for Campaign Cash
Supply of Campaign Cash: Substance
Supply of Campaign Cash: New Norms
Supply of Campaign Cash: New Suppliers
Lobbyist$
Economies, Gift and Otherwise

8. What So Damn Much Money Does

The Deviations That Money Inspires
0. It Matters Not at All
1. Extortion
2. Distraction
3. Distortion
4. Trust
Okay, But Is Money the Real Root?

9. How So Damn Much Money Defeats the Left
10. How So Damn Much Money Defeats the Right

1. Making Government Small
2. Simple Taxes
3. Keeping Markets Efficient

11. How So [Damn Little] Money Makes Things Worse

The Ways We Pay Congress
The Benefits of Working for Members

12. Two Conceptions of "Corruption"

"Corruption"
"Dependence Corruption" Is "Corruption"
What Follows

PART III: Unconventional Thoughts

13. A Proposing Convention

The Movement on the Left
The Movement on the Right
"A Convention"
The Risk in the "Runaway"
Safety Valve 1: Limits on the Convention
Safety Valve 2: The Courts
Safety Valve 3: The Safety Valve Itself
Leave the Lawyers, Return to Real Politics
Risks
One Way Forward
Fair Deals

14. Referendum Politicians

The Referendum President
Referendum Representatives

Conclusion
Afterword
Notes
Index
Video